Windsor Chair Photo Gallery
Product Detail
True handmade Windsor chairs are different than chairs that are factory made and purported to be "handcrafted".

Be sure to examine the difference before making a purchase.

For instance, our traditional hand-shaped spindles look fragile, but are stronger than bulky production spindles.

This strength results from shaping the spindles with a drawknife and spokeshave following the unbroken grain of the wood.

This allows the hand-shaped spindles to be pulled straight or into a graceful curve without breaking.

Factory spindles must be heavier to achieve the strength needed.

These factory spindles are cut straight from a plank and sometimes cross the wood's natural grain.
The following photographs illustrate details that allow a fragile looking chair to be very strong.

After all, this is the way they were traditionally crafted 250 years ago.
Sackback or Bowback Chair
Here the arm rest of our Sackback or Bowback Chair shows a traditional handhold design.
Windsor Rocking Chair
The graceful lines of our Windsor Rocking Chair with a five spindle comb head rest are highlighted in this picture.
Backside of a Continuous Arm Chair
Here you can see up close the two tapered spindles that brace the back from the tailpiece of our Continuous Arm Chair.
Leg Detail of Windsor Chairs
This picture highlights the typical 'baluster' style leg turning with a black over red antiqued oil finish.
Seat Detail of a Windsor Chair
This is the typical oval style seat of our Windsor Sackback and Rocking Chair.

The photo reveals the spindle layout, carved gutter line and deep recessed seat.
Carved Knuckles of a Nantucket Fan Back Chair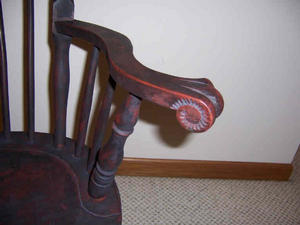 The scroll detail is achieved by chip carving - all done by hand, no two are identical.